This gallery represents some of my journalism work in the U.S. and abroad.  I have received awards from the National Press Photographer's Association and Popular Photography Magazine.  My work has also been featured in gallery shows throughout the Northeast.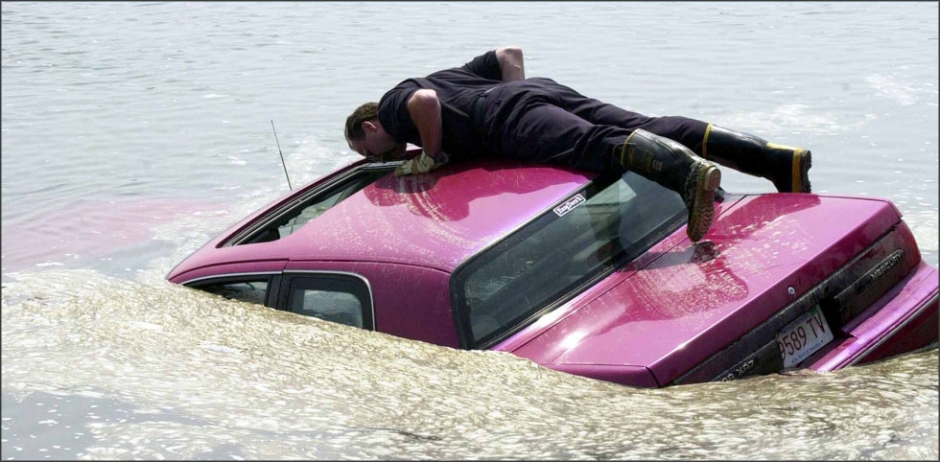 A Saugus firefighter inspects a car found off Route 107 on the Saugus/Revere line.
---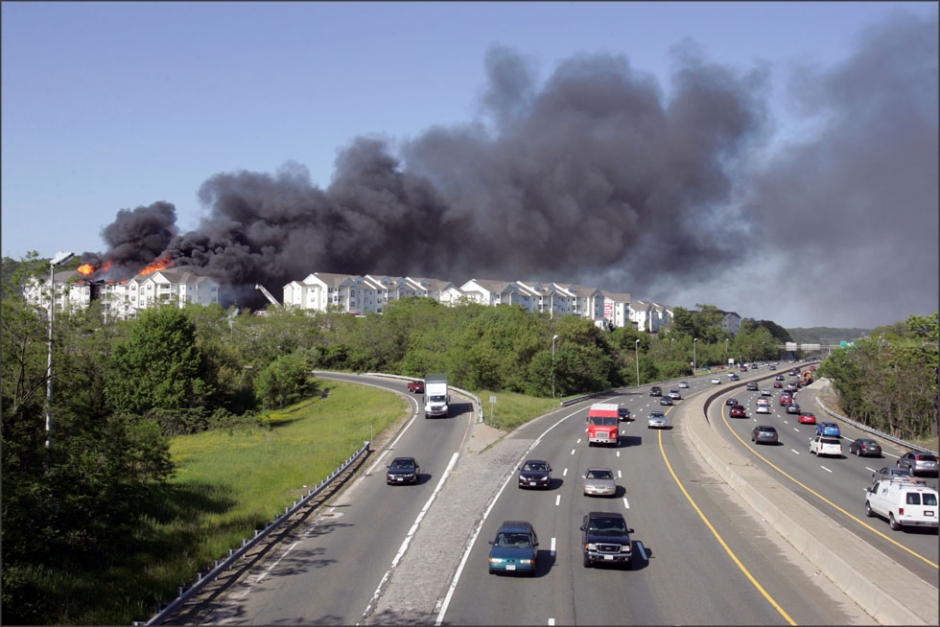 A fire rips through the Highlands at Dearborn apartment complex in Peabody.
---
Lynn firefighters knock down flames at 18 Clinton St, Lynn Tuesday.
---

A young man waits outside a courtroom before his brother's trial for murder at Dorchester District Court.
---

A Peabody bank robbing suspect is taken into custody after being pulled from a bulkhead behind 18 Pleasant Ave. in Saugus Thursday.
---

Lynn police detain a carload of suspects on Beacon Hill Ave. Wednesday after reports of gunfire in the area.
---

A boy was thrown from his bike after being struck by a car on Washington Street Thursday evening.
---

Miranda Nocera makes her way home from Nahant Beach after surf boarding Wednesday.
---

Cameron Mueller, 14 of North Carolina, does a back flip over a jump rope during JazzFest in New Orleans, LA Sunday.
---

Michael and Matthew Gadman, Dan Donnelly, Steven Gadman, and Dario Kaivis shovel the Gadman's Swampscott driveway.
---

Stuart Hollett poses with daughter Jennifer and a photo of son Sgt. Jeffrey Hollett in their Saugus home Thursday.  Sgt. Hollett's Saugus home was recently broken into while he is away on active duty.
---

Lynn residents place flags on graves stones of soldiers buried in Pine Grove Cemetery in advance of Memorial Day Thursday afternoon.
---

St. Mary's High School graduates toss their caps in the air Thursday after commencement exercises at St. Mary's Church in Lynn.
---

Ray Barron poses with busts of authors (from left) James Joyce, Virginia Wolfe, Walt Whitman, and Dylan Thomas which he will donate to Nahant Public Library.
---

Opthamologist Dr. Usana Wu has joined the staff of Mr. Specs of Lynn.
---

(From left) Adrianna Brent, cousin Nutu Brent, and Anika Walker share a laugh before Easter Sunday service at Zion Baptist Church in Lynn.
---

 St. John's Prep captain Rico Piatelli falls to the ice as Duxbury's Max Quinzani looks on Tuesday in Chelmsford.
---

St. Mary's Will Abbott and Classical's Steven Delvecchio collide at Frey park Wednesday.
---

Lynnfield's Josh McCusker steals second as Tyngsboro's Kevin Halloran stretches for the tag-out Thursday in Waltham.
---

Horace Mann New Leadership Charter School's Bilqis Abdul-Qaadir poses with her parents Tariq and Alooah.
---

Kay Whitehead teaches an African History course at West Baltimore Middle School.
---

Constant Beatrice works to deliver a second baby with the aid of Doctors Without Boarders staff (from left) midwife Sarah Senbeto, Dr. Joseph Anderson, midwife Agathe Francisque, and Dr. William Opongo.
---

Steven and Chaneya Pavulus are shown at home in the Blanchard province of Port-Au-Prince, Haiti.
---

A blind woman greets visitors in her home in Village Concepcion, rural Guatemala